101+ Amazing Recycled Craft Ideas
Do you struggle to do crafty things with your kids? Sometimes it's hard to find ideas or come up with things to do.  Well, I have rounded up some of the best-recycled kid's craft ideas! You probably already have all the resources you need to make these crafts in your house! The only things you might need are glue, some paints and a little bit of creativity!
With Earth Day just around the corner, it's a great time to talk about reducing, reusing and recycling! Here are some ideas that are fun to make and easy to create! Have a blast crafting while you discuss how we can reduce, reuse, and recycle to help keep our Earth clean!
Here is one of my favorite books about Earth Day, it's called Earth Day Birthday! It's a super cute rhyming story that talks about taking care of the earth and all the things we can do to reduce, reuse and recycle. The main character of the story, a monkey, has a problem. It's his birthday, but no one believes him! Read to find out what happens in this clever little tale.
This post contains affiliate links, which means I receive a small commission, at no extra cost to you, if you make a purchase using this link. See my disclosure here.
How fun are these jellyfish? So simple, yet, so easy! All you will need is some bubble wrap, newspaper, and string! If you don't have bubble wrap you can always use some old tissue paper. It's perfectly ok to improvise these kinds of crafts.
What you will need:
cardstock (to put the jellyfish on)
newspaper
paint
bubble wrap
string or yarn (this multicolored yarn pack would be useful for all sorts of home crafts)
crayons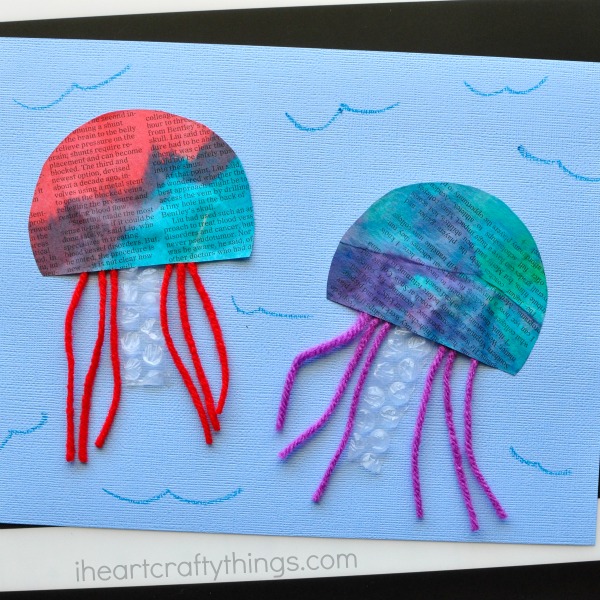 Find an old box and some straws and a couple of old beads and make yourself a maze! This is a fun and engaging activity when you're stuck indoors.
What you will need:
sturdy cardboard box
straws (these multi-colored fat straws are perfect for making a maze)
beads or small wood blocks
glue
marble (to go through the maze)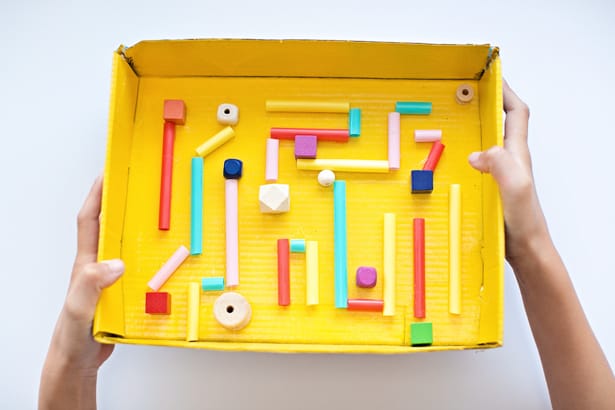 Do you have an egg carton lying around? Well, this cute turtle is just waiting to be created!
What you will need:
egg carton
paint
google eyes
paper, felt, or foam for the legs
glue
Who knew keeping all those bottle caps could turn into such a fun fish! Make your own fish, or create something new! The ideas are endless!
What you will need:
bottle caps of varying sizes and colors
cardboard
colored paper
glue
This simple craft only needs something you're sure to have lying around the house, a toilet paper tube and some paint. Pick up some google eyes and you're set!
What you will need:
toilet paper tubes
paint
google eyes
jewels or sequins
This is another easy idea with egg cartons. So simple, yet so much fun! Leave them on the doorstep of a friend or relative to help brighten their day!
What you will need:
egg carton
paint
straws
paper, felt, or puff ball
Check out these other fun recycled ideas! Who knew bubble wrap could be so fun? All you'll need for these activities is some paint and odds and ends from around your house.
What you will need:
various recycled objects
bubble wrap
cups
containers
paint
Toilet paper tubes are in high demand right now! See if you can create some of these awesome crafts! Make up a car garage or a rocket ship! Get ready to use your imagination.
What you will need:
toilet paper tubes
bottle caps
paint
glue
paint
foil
Look at this sweet bee. It's the perfect time to get ready for summer and talk about how important the bees are when it comes to pollination. Do this fun craft and do some learning too!
What you will need:
egg carton
paint
google eyes
yarn or string
glue
This is the perfect at-home activity. Try to make your own paper. It's fun, a little messy and a neat process for kids to understand. Making paper is some work!
What you will need:
torn paper
Plastic wash tubs
Blender (to mix all the bits of paper in)
Washcloth
Nature is so much fun! Don't miss out on this amazing idea. Turn an old milk carton into a secret hideout or a fairy's home. All you'll need are some sticks, twigs, a little moss and maybe some leaves.
What you will need:
paper cartons (with or without a plastic top)
torn paper
twigs
moss
twine
bark or (toilet paper tubes)
rocks, nuts or acorns

With some old lids and a couple of containers, you can create this rocket and blast off to space! Take an imaginary trip to space and then watch a video to see what it would actually be like to live in space. Chris Hadfield has some awesome videos about what things are like in space. Click here to see one where he answers questions about living in space.
What you will need:
plastic bottle
white paint
bottle caps
small plastic container (like from an applesauce cup)
toilet paper tube
felt or paper (for the flames)
Click HERE to see a YouTube video of house astronauts brush their teeth in space.
Make a castle with some toilet paper tubes and an old cereal. Grab some toothpicks and add some flags! Create a story about the characters who live here.
What you will need:
cereal boxes or other cardboard material
toothpicks or screwer
colored paper
yarn
Loose parts is a concept where materials are meant to be manipulated for the purpose of play. Things can be designed and redesigned. Create a collection of random recycled materials and put them in a box for your child to use. They can move, combine and take apart and put back together pieces to create new things. Materials don't need to be glued but can be if your child wishes to make the creation permanent.  Read more about other ideas HERE.
What you will need:
bottle caps
old keys
wire
string
cereal box
pasta
various lids
pipe cleaners
buttons
plastic forks or spoons
other random odds and ends


Create some super cute can creatures and make some recycled crafts that you'll want to show off! You will need some old cans, but make sure that they aren't sharp. If you're worried about your child getting cut, just use a full can and remove the label. Write on the bottom what is in the can, so you can actually use it later.
What you will need:
metal cans
varying sizes of nuts
different kinds of bolts
colorful wires
wiki sticks (as opposed to wire, which is more kid-friendly and can be reused)
old keys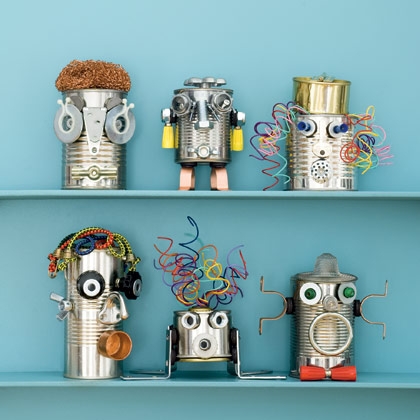 Do you have any old keys lying around? You can make this creative wind chime. First, find a stick and paint it with some vibrant colors, paint the keys too and then just string them up and you're ready to go!
What you will need:
long stick
paint
yarn
old keys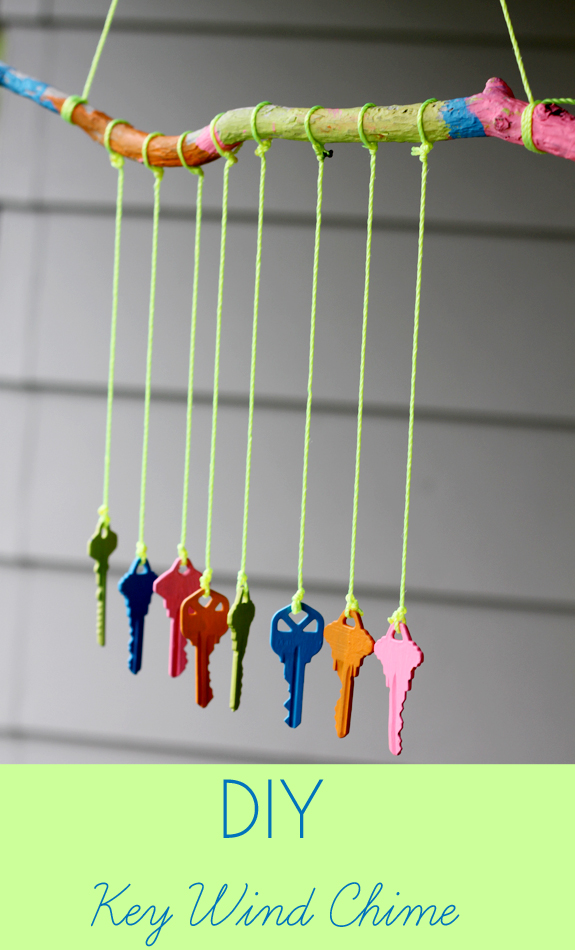 Cardboard Box Coloring
If you have little ones, this is a simple recycled craft that will keep them busy for at least 20 minutes! Just plop your kiddo inside and give them some crayons or markers! This is a fun way for them
What you will need:
large cardboard box
crayons or markers

This is a fun way to use up all those old cereal boxes and help kids with their cutting skills as well! Gather some old caps and start to create
What you will need:
cereal boxes
lids
glue
straws
pipe cleaners
This activity is a great way to include science with in-home learning. Talk about how bubbles form, test out different mixes and you can even change the color of the bubble by adding food coloring!
What you will need:
bubbles
Plastic bottle
mesh fruit bag
duct tape or glue to secure the mesh bag
Find out how to make super bubbles onYouTube by clicking HERE.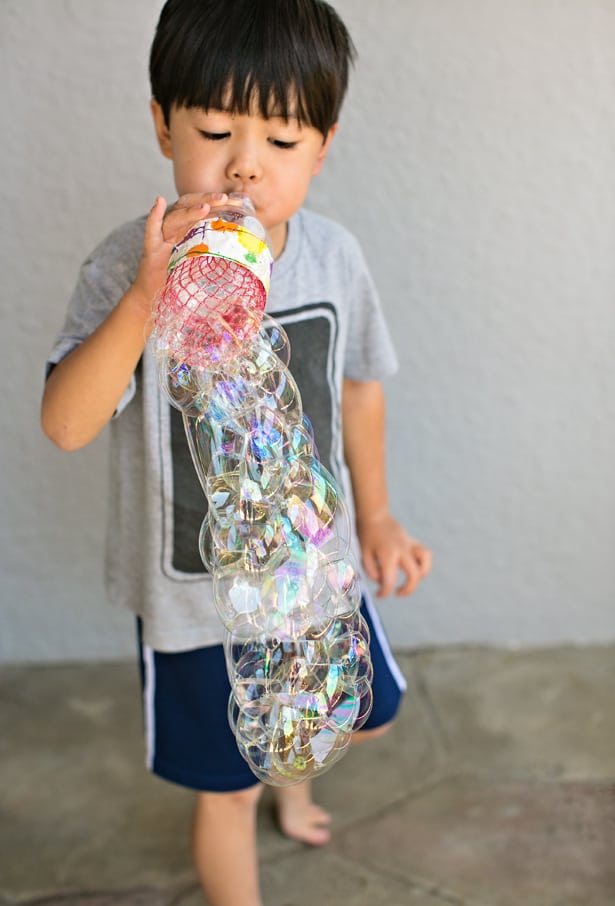 Recycled crafts are easy to make at home! These finger puppets only require a couple of materials and feel free to improvise if you don't have something.
What you will need:
toilet paper tube
leaves
buttons
rocks
pipe cleaners
sticks
glue stick
construction paper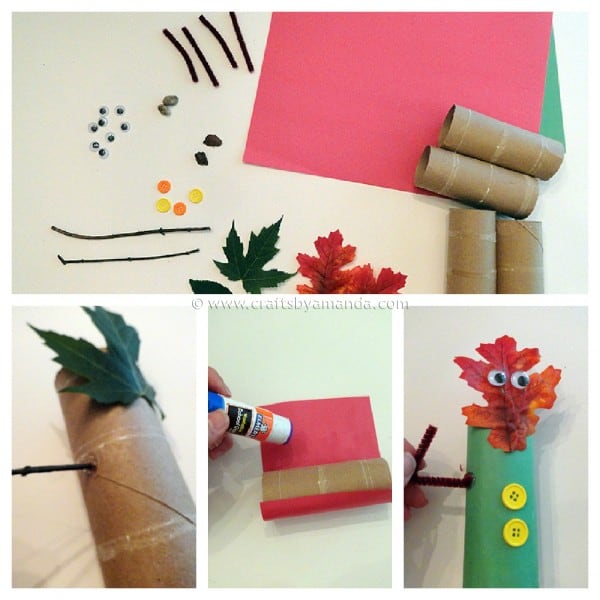 Find out how to make your own bead with paper at home by watching the youtube below!
What you will need:
old magazines (preferable with vibrant or bight pictures)
glue
straw
toothpick
Thank you so much for stopping by! I hope you have lots of fun making some of these recycled crafts with your children. I'd love to know what you tried! Let me know in the comments below.
Share what craft you tried in the comments below! I love to hear what you're doing!